Make a Donation via PayPal
Now you can DONATE to the Alliance Bible Church using our secure and convenient PayPal link. Simply click on the button above and follow the prompts to make your contribution for your Tithes & Offerings --no PayPal account is needed. (PayPal retains a small percentage of the transfer so please consider offsetting that cost by increasing your donation.)
Thank you so much!
Buy from AmazonSmile and They'll Donate to ABC!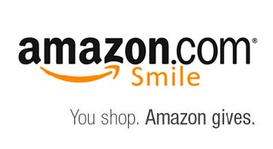 Go to
www.smile.amazon.com
and select
"Alliance Bible Church of the Christian and Missionary Alliance"
as your chosen charitable organization. Then set your bookmark for all your Amazon shopping to Smile.amazon.com. You'll see the
same selections, the same prices
as you're accustomed to seeing. Amazon will donate a 0.5% of every purchase to ABC and you will have a big SMILE on your face doing something so good! Thanks!
---
Benefit ABC through linking your Fred Meyer card = Painless Giving!
Link your Fred Meyer Rewards Card to
Alliance Bible Church (#81974)
at
www.fredmeyer.com/communityrewards.com
and Fred Meyer will donate a percentage of your purchases to ABC. You'll still receive all your discounts and awards. It's a win-win! Thanks!
---