ABC Kitchen Remodeling Project

Our sad, old, dysfunctional kitchen is in much overdue need of some refreshing! We're gearing up to replace cabinets, countertops, flooring, and appliances for a fresh, new, much more usable space. We estimate that we will need approximately $13,000 for this project and will be sending 10% of what we collect to help with relief efforts in Puerto Rico following the recent hurricane. Please consider what you can contribute and donate to the "Building Fund" soon.
---
"Weekend to Remember" Marriage Conference April 4-6, Hyatt Regency Bellevue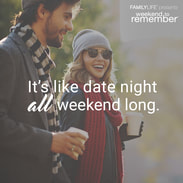 Marriage is a lifelong adventure of growing together through every age and stage of life. The happiest couples are those who commit to learning skills that help them weather difficult seasons and deal confidently with relationship challenges. Find out what over 3 million couples worldwide have experienced at FamilyLife's Weekend to Remember®. It's your turn to make a great marriage happen. It's April 4-6 at the Hyatt Regency in Bellevue, WA. To register for the conference at the best rate, click
here
. (Hotel accommodations and food not included.) See Dave or Nancy with questions.
---
ABC Calendar of Events